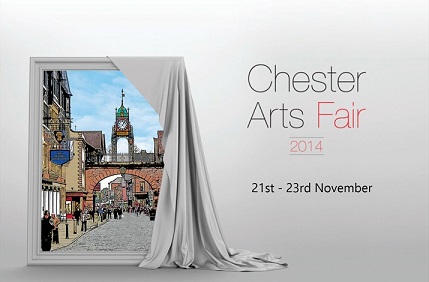 Returning to the city for its third consecutive year, the 2014 Chester Arts Fair will take place at Chester Racecourse from 21-23 November, and is expected to draw over 5,000 visitors.
A high calibre of Art Galleries and Independent Artists will be exhibiting at the event, selling affordable art and investment art, including Kerry Darlington (Winner of UK's best-selling published Artist 2012) and leading UK landscape fine art painter Pater Hill. The Fair will include a range of visual art, photography, sculpture, ceramics, glass work and much more.
For art enthusiasts and experts alike, there is an exhibition by the much-loved British painter L.S. Lowry – which is a real coup for Chester City. This rare collection has been released by a private collector is worth over £2 million. It includes his iconic oil painting 'The Professor', and early drawings 'The Farm' and 'The Family'.
The Fair showcases a good choice of work reflecting the North West's heritage past and present. It includes a painting by famous night scene artist, John Atkinson Grimshaw, 'Liverpool Docks by Moonlight' as well as a sculpture by the celebrated artist Arthur Dooley.
For those looking to visit the fair to snap up some affordable art, there is original artwork on sale starting from £50.00. Art Fair Co Director, Laura O'Hare advises "You don't have to be an expert or a millionaire to collect art. You just have to enjoy it. It's never been easier to invest in paintings, prints and framed photographs."
For families, Chester Arts Fair has a free dedicated area with lots of complimentary fun art activities to keep children entertained. There is also a restaurant and bar facilities so visitors can relax and soak up the atmosphere for an enjoyable day out.
The Preview Evening takes place Friday 21st November 18.00 to 21.00. On Saturday 21st November the Fair is open 10.00 to 19.30 and Sunday 22nd November from 10.00 to 17.00.