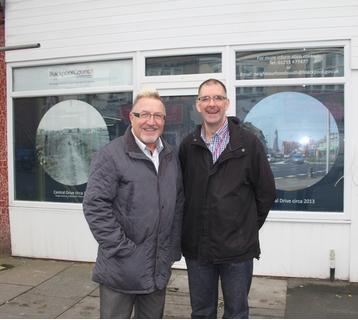 A Blackpool street is battling the blight caused by empty shops by turning to photography.
Empty shops have, for some time, been a problem on Blackpool's Central Drive with business owners and residents complaining they can be unsightly.
But visitors to the area will soon start to notice those shops looking much better with windows filling up with local images.
The first property, at 127 Central Drive, has now been decorated using a fascinating historic picture of the road, juxtaposed against its modern equivalent.
The historic picture, from 1894, shows Central Drive as little more than a dirt track and provides quite a contrast to the modern-day.
Local residents and businesses have already given the project rave reviews and councillors are hoping the positivity will help to encourage other property owners to take part.
It is hoped that, as well as making properties look better, drawing on the history of the area will increase the sense of community among local residents.
Cllr John Jones, ward councillor for Bloomfield, said: "The project is aimed at improving the look of the area by using local imagery.
"It will help make empty shops, which can sometimes be an eyesore, look better and also give a platform to showcase the very best of the history of the area along with new, bright images.
"Myself and Cllr Cain are delighted to be helping businesses."
Cllr Graham Cain, meanwhile, added the project was a step in the right direction for Central Drive.
He said: "We recognise that more needs to be done to improve Central Drive and have already invested money in sprucing up the area with planting and other things.
"This is not a solution to Central Drive's problem; more a sticking plaster. However, what we're trying to do is help businesses in the short-term and make the area a more attractive place.
"That is often half the battle."
Blackpool Council is now working with businesses and landlords to identify other empty shops that will take part.
The scheme could include up to 10 properties.