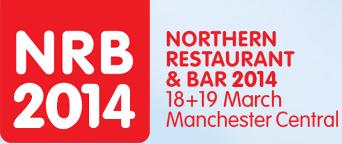 The North's biggest hospitality show, Northern Restaurant & Bar, will return to Manchester Central from 18 to 19 March 2014 and for the third consecutive year be 20% larger than last year, with 6,000 visitors expected over two days.
An additional 50 exhibitor stands will bring the total number of food, drink and catering suppliers at this year's event to 200.
Tickets are now available, simply register online at www.northernrestaurantandbar.co.uk
Now in its 13th year, Northern Restaurant & Bar (NRB) continues to celebrate the North West's thriving hospitality sector. Signalling its involvement in Manchester's buoyant restaurant trade, this year's show will play host to some exciting top chefs currently doing big things in Manchester and the North.
The North's hospitality hub
The trade-only showcase will welcome exhibitors and visitors including restaurateurs, hoteliers, publicans, chefs, deli owners and bartenders from across the north of England.
As well as being a hotspot for hospitality networking and inspiration, NRB will also stage cookery demonstrations from well-known industry stars plus tutored beer and wine tastings, cocktail demonstrations and fine food displays. Welcoming emerging artisan producers alongside premium brands, the show will give visitors an opportunity to explore everything from the latest microbrewery craft ales, award-winning meats, cheeses and wines through to epos systems and the finest tableware.
The NRB Top 50
Organisers of this year's event will also be announcing the second annual NRB Top 50 line-up, sponsored by Kuits Solicitors. The list, which will be chosen by a panel of judges from Holden Media and the Russell Partnership, will honour 50 individuals from influential operators in the north of England. The three coveted special achievement winners will be announced live on the first day of the show. Those selected will be chosen based on their successes, achievements and their impact on the northern hospitality industry.
For further information about NRB 2014, go to www.northernrestaurantandbar.co.uk or follow on Facebook www.facebook.com/nrbmanchester and Twitter @nrbmanchester