Extended laboratory facilities to support science, technology, engineering and maths disciplines at the University of Cumbria are rapidly taking shape.
Thanks in part to a £784,000 investment from Cumbria Local Enterprise Partnership, the county's strategic economic body, the first modules of the university's new STEM labs at the Fusehill Campus in Carlisle have been lifted into place.
A giant crane was utilised to commence the first floor extension work which comprises 10 modular units in total, covering over 575 square metres.  The project is on schedule for completion in time for the arrival of students in September.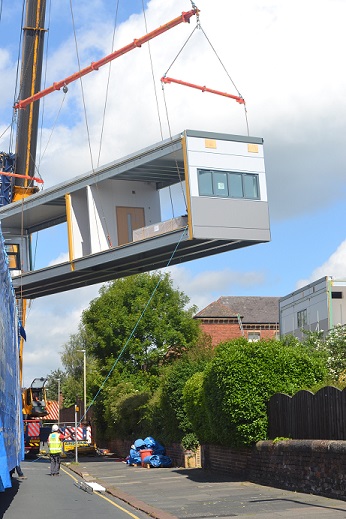 Graham Haywood, Director of Cumbria Local Enterprise Partnership, says: "It's great to see this project taking tangible shape with the modular buildings going up to house state-of-the-art science laboratories.
"This is an important investment in skills development for STEM subjects within the county.  The facility will help provide our regional industries with graduates with specific science skills.  We hope they in turn will help make a significant contribution to Cumbria's economy and give our local businesses access to the skilled workforce they need."
The investment in the laboratory extension has been designed to enhance the university's existing science curriculum offer and expand its science portfolio by offering degree-level qualifications in chemistry and biomedical science.
Sheila Pankhurst, Deputy Dean at the University of Cumbria, said:  "It's been very exciting to see the next phase of our STEM labs being lifted – quite literally – into place.
"We are very grateful indeed to Cumbria LEP for its funding support for this extension to our current labs, which will allow the university to offer new courses in science subjects such as biomedical science and chemistry, starting from this September.
"The project is on track, and we are all looking forward to seeing even greater numbers of students able to study for degree-level qualifications in science subjects in Cumbria."
Cumbria Local Enterprise Partnership has published an ambitious Skills Investment Plan to improve skill levels, increase the county's workforce and assist employers.  A full copy can be downloaded from the Cumbria Local Enterprise Partnership's website www.cumbrialep.co.uk