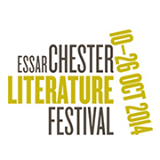 The 2014 Festival will take place at Chester Town Hall and the University of Chester from 10th – 26th October.
We're thrilled to present this year's lineup, which includes our broadest range of events yet – We've gotworkshops, book signings, free lectures, talks, film screenings, gigs and even a poetry pub crawl! 
We're also excited to be welcoming some big names to Chester including:
Sheila Hancock,

John Lydon,

Kate Mosse,

Michelle Magorian and

Sir Ranulph Fiennes to name a few!