Following the success of Disney Institute workshops hosted in 2013, Echo is bringing this world class training back to London and making it bigger than before.
On Monday 17th and Tuesday 18th November 2014, the Hilton London Wembley will welcome facilitators direct from the Disney Institute in Florida, to host two of their renowned professional development courses; "Disney's Approach to Business Excellence" and, back by popular demand, "Disney's Approach to Quality Service".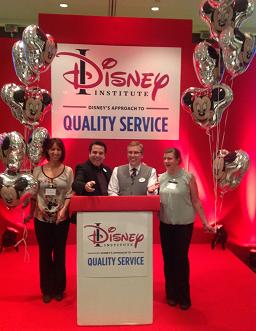 These full-day events are aimed at anyone interested in discovering the key business practices that make Disney a worldwide success and will inspire area professionals on how to drive business results, retain employees and satisfy customers.
"Disney's Approach to Business Excellence" course introduces participants to five core Disney business principles: leadership, culture, quality service, brand loyalty and innovation. Together, these lessons forge an enduring bond between inspired leaders, motivated employees, happy customers and an ability to continually recreate and grow the brand.
"Disney's Approach to Quality Service" looks further into one of Disney's business principles and will teach professionals how to exceed customer expectations using defined quality service standards, and how to recover from a service failure. This day of Disney training will offer easy-to-implement, time-tested ideas that can help transform an organisation.
Fiona Fletcher, Director of Echo Events says "We are extremely delighted to be an approved sponsor for Disney Institute and be able to host their world famous training courses in the UK. The demand for these courses is so high, we have not only received a number of bookings from across the UK but Europe too! I guess when people see The Walt Disney Company brand, they know they are getting the best."
Feedback from those who have attended courses in the past has been fantastic with one delegate saying "The training was excellent and highly relevant to our needs. I have implemented a number of new systems and techniques, specifically around staff, which I learnt at the course, and I intend to introduce many more. My only regret is that I didn't take my senior team."
If you are interested in attending one or both of these unique courses, register by Monday 29th September 2014 and take advantage of our early bird discount rate. Fee includes all course materials, as well as a hot buffet lunch and refreshments throughout the day. Places for each workshop are limited.
For more information or to register, visit www.exclusivetraining.co.uk or email [email protected]