Families are being invited to enjoy Stanley Park in Blackpool this Easter. A wide range of classes and events have been put on for all ages of the family to enjoy over the next fortnight.
The events range from Easter bunny hunts at the Model Village to one-off salsa lessons at the park's bandstand.
An Easter fair and bonnet parade will also take place on Easter Sunday at the Visitor Centre by the main car park.
Classes are also being held at Blackpool BMX Club along with children's sports camps being available to book at Blackpool Sports Centre.
Other options include sports pitch hire for just £38, as well as golf club hire for the putting green and crazy golf courses.
The new boats on Stanley Park lake, including motor boats, rowing boats and pedalos, are available to hire. The Art Deco café is also open for refreshments.
Blackpool Model Village is offering a buy one get one free for all Blackpool residents on entrance tickets to the attraction, which also includes the family Easter Bunny hunt which takes place between Friday 3 and Sunday 12 April.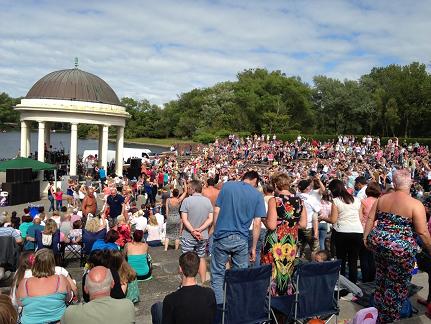 On Easter Sunday visitors to the park can also take part in a special salsa class for all the family. Noches de Salsa is free for everybody and will start on the bandstand at 1pm.
A special family Easter fair will also take place on Sunday in the Visitor Centre, with games raffles and a cake stall, while the best Easter bonnet designs will be paraded at 12 noon.
The Blackpool Sports Camps, which run throughout the school holidays, offer the chance for children to do sport in a safe environment, with camps available for children aged from five upwards. The camps cost just £7.25 for a half day, £14.50 for a full day and £67.50 for a full week, with camps also available at Palatine Sports Centre.
Open sessions to try out the BMX Club are also held on Saturdays, with both bike and equipment hire available, while a racing holiday club is taking place on the 2 and 9 April.
John Blackledge, Blackpool Council's Director responsible for parks, said: "Stanley Park is a fantastic place to visit throughout the year, but this Easter there are lots of events for families to enjoy.
"Whether it is enjoying some sport or just having a relaxing walk, there is something for everybody. When the sun comes out, the flowers look stunning too and I hope lots of people come to have a walk around.
"Everybody who visits is there to enjoy themselves but we would always ask people to respect the park and not cause and any nuisance. There are rules in place around dogs and anti-social behaviour and we'd politely ask people to follow those.
For more information about what's going on at the park this year, go to the Visitors' Centre next to the Art Deco café.
12 reasons why your family should visit Stanley Park this Easter
Join the Easter bunny hunt at Blackpool Model Village
Running for over 10 years, the annual Easter bunny hunt at the Model Village is fun for the all the family. As well as searching for bunnies, this year Blackpool locals can bag a bargain too, with buy-one-get-one-free tickets available.
Show off at the Easter bonnet parade
The Easter fair, arranged by the Friends of Stanley Park, takes place on Easter Sunday between 11am and 3pm with games, raffles and a cake stall at the Visitor Centre next to the café. The best Easter bonnet designs (for both children and adults) will also be paraded at 12noon.
Enjoy a relaxing boat ride on Stanley Park lake
Most of Stanley Park is taken up by the giant lake – but that doesn't mean it's off limits. You can hire a motor boat, rowing boat or pedalo from the boat hut for as little as £5.
Learn to salsa
The Noches de Salsa events are a good excuse to get those hips moving and learn how to dance like a true Spaniard. Lots of fun guaranteed at the event which takes place at the bandstand on Easter Sunday (1-5pm).
Get riding on the BMX track
Whether you're an expert or a novice, you can try your skills at the custom-built BMX track. Sessions are held on Saturdays and both bikes and equipment are available to hire. This Easter, the British Cycling BMX Racing Holiday Club takes place on Thursday 2 and Thursday 9 April, costing £5 for members and £7 for non-members. To book a place, call Lisa on 07428 818237 or email [email protected]
Keep the kids busy with a Blackpool Sports camp
Blackpool Sports Centre (and Palatine too) run sports camps for children during the school holidays. They're great fun and a good way of keeping the kids entertained, including climbing, badminton, basketball and much more. Costs start from just £7.25 for a half day.
Something for the young ones
The new children's play area for 2-8 year olds is fully open now with rocking horses, see-saws and play vehicles. It's one of the largest outdoor play areas in the North West and loads of fun too.
Practice your putting
If you fancy yourself as a bit of a Rory McIlroy then why not hone your skills on the putting green. If you fancy a bit more of a challenging course then there's always the crazy golf too. Clubs and balls can be hired from the boat hut for just £2 per person.
Get sporty
From tennis to football, there are loads of ways to stay active this Easter. Football pitches, tennis courts and much more are available to hire from the sports centre, as well as access to the athletics arena.
Refresh yourself at the Art Deco café
If getting out of breath isn't your thing, how about a more relaxing way to pass the day? In its pristine setting above the Italian Gardens, the Art Deco café can serve you with food, drink and refreshments while you let others do the running around.
Enjoy the colours at the Italian Gardens
The most famous part of the lot. Stanley Park's Italian Gardens always look stunning come rain or shine. Take a stroll through the garden and enjoy the colourful daisies, tulips and forget-me-nots on display this Spring. Check out the rose gardens on the north side of the park too.
Respect our park
A lot of people work hard on making Stanley Park as good as possible for local people and families. If you are coming to the park, please be sure to look after it. If you're bringing a dog, please pick up its mess, remember to put it on a lead when asked to and keep it away from the excluded areas like the golf course, boating lake, children's playground and bowling greens. If you've got any questions, community beat manager Jennie Bradshaw is around to help – you can find her at the offices at the tennis pavilion.