The historic boxing club, Ardwick Lads Amateur Boxing Club (ABC), have celebrated the grand opening of their brand new training complex with the help of two boxing world champs.
World Champion, Scott Quigg, and Intercontinental Champion, Anthony Crolla – along with their trainer, Joe Gallagher – were on hand  as sparring partners to the club's young boxers, offering tips and advice only weeks ahead of their big bouts at the Manchester Phones 4 U arena, where both boxers will be fighting to retain their titles.*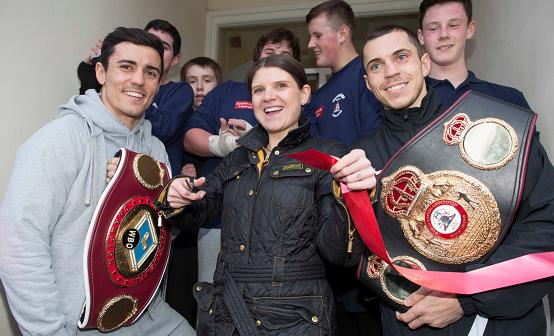 Due to the closure of Ardwick Youth Centre in 2011, the Ardwick Lads ABC relocated temporarily from their base on Palmerston Street to a facility on Bosworth Street in Beswick.
But now, as part of the Beswick community hub regeneration project, Manchester City Council has found a new permanent home for the club that will help them increase their membership and continue the club's positive impact in the community.
The John Gilmore Centre in Openshaw was chosen as the gym's new home and features a brand new 16ft sparring and match ring, new punching bag and speed balls, new shower facilities and changing rooms – and a new outdoor fitness centre, for sprint work, circuit training and exercise bars.
Engineering and construction firm Laing O'Rourke and their supply chain on the Beswick community hub project have donated a significant amount of resources into the refurbishment of The John Gilmore Centre – chosen for its good location and access – in readiness for the club to move in.
Ardwick Lads (ABC) is one of Manchester's most historic and longest-running sport institutions, founded in 1894. The club has always been non-profit and run by volunteers – training amateur boxers that have gone on to compete at national and world levels.
Cllr Rosa Battle, Manchester City Council's executive member for culture and leisure, said: "Ardwick Lads has been at the heart of Manchester's communities for generations, being more than just a gym for the countless young boxers who have trained there.
"After relocating a number of times in recent years, it's with great joy that a permanent home has been found and the club can continue to discover the world champions of tomorrow."
Peter Hayes, Secretary of Ardwick Lads ABC, said: "I've been coming to the club since I was 6-years-old and before me, my father was at the club for more than forty years. Generations of kids have been part of the club, and lots have stayed involved with the club for many years later, becoming trainers or brining their own kids.
"Ardwick Lads is at the centre of its community, but we've had tremendous support from the city council and Laing O'Rourke to bring about the new training centre. The club and the young people who train here could have asked for more."