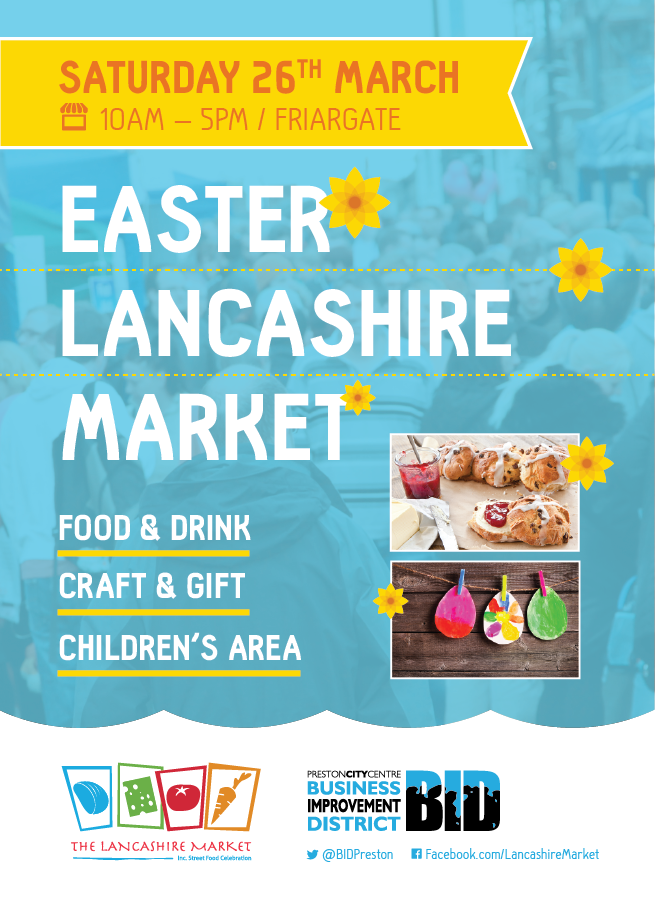 Exotic animals, live entertainment, an Easter egg hunt and the chance to picnic on the high street are just some of the initiatives which will be brought to Preston's popular street market this Easter.
The city's Business Improvement District (BID) is promising the attractions for the Lancashire Market on Friargate on Saturday, March 26, from 10am – 5pm.
The event, now in its sixth year, showcases fine food and drink from across the county, together with gifts and objet d'art.
The Lancashire Market is a family friendly event and offers the visitors the opportunity to meet the makers, the producers and businesses passionate about their products, produced locally.
Children (and Mum and Dad if they're so inclined) can enjoy free giant outdoor games area in the Market's picnic garden, courtesy of local business 'Dice and Donuts'.
Visitors will be also be offered 'BID Bags' filled with goodies and incentives, promoting local businesses and encouraging local spending.
BID's Mark Whittle said: "Ever since the Lancashire Market was launched, the BID has said this is a way of not only attracting people to a great event, but an opportunity for Preston to showcase itself. 
"Our research has shown that many people who are attracted to the city centre by the Lancashire Market do stay and visit other retail and leisure businesses, therefore supporting the local economy.
"Working with the Healthy High Street team, the city is pulling out all the stops to ensure that those visiting Preston on Easter Saturday have an enjoyable time."
Andrea Mellon, restaurateur and member of the BID Committee BID said: "The Lancashire Market is a hugely popular event that has seen tens of thousands of people visit the event and moreover, our great city centre.
"Preston has a long and historical connection with markets and as such, it's vital that all quarters of the community, from business to residents alike, continue to support such vital community hubs."
The Lancashire Market, a thrice-annual special event, takes place on Friargate and was introduced by the BID to promote the city centre as a destination, to increase footfall, provide an additional trading platform for city centre businesses and promote the outstanding produce Lancashire exports across the region.
The next Lancashire Market takes place on Easter Saturday, 26th March, from 10am – 5pm on Friargate.  More information can be found at Facebook.com/LancashireMarket, or by following Preston BID on Twitter @BIDPreston.