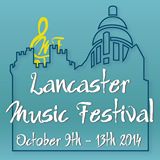 Lancaster Music Festival has decided to create their own unofficial Bank Holiday 9-13 October 2014. This year's festival is set to be the biggest yet with over 200 acts performing at over 40 locations across the city of Lancaster. 
When asked for the thinking behind this idea, festival coordinator Ben Ruth responded, "people kept asking us why we didn't put the music festival on a Bank Holiday weekend so we could fit more shows in. Well, last year we warned all those involved in the festival production to take Monday off anyway only to realise a lot of festival goers did the same. That led to the realisation that we could create our own long weekend in Lancaster simply by announcing it. So that's what we're doing. Only we've thrown in Thursday as well."
Almost all of the shows are free and all the city venues are within easy walking distance of each other while a regular bus service connects with Lancaster University.
It will be a long and packed weekend of around 200 top-notch local and global musical talent at over 40 locations with new acts arriving and proven favourites returning to a city which has always welcomed and nurtured live music. Based on the festival successes of the last five years this will be Lancaster's sixth and biggest music festival so far with new venues including the city's iconic 1000 year old Castle, the town's historic squares, late closing bars and clubs and greater involvement of Lancaster University (and a bank that will in fact be open).
From folk, jazz, blues, soul, funk, grunge, punk, pop to classical, avant-garde and even bicycle powered music on the back of a beer dray we expect everyone to find outstanding music that they will enjoy in a lively and festive atmosphere.
Most of the music will be provided by the outstanding talent and variety of acts that perform in the Lancaster district, for example, Get Carter Experience with Madness ex-keyboardist James Mackie, singer songwriter loop sensation Alex Hulme, beatboxer Nathan Loopz, reggae explosion Jeremy Ferrari, Celtic fiddle virtuosity from Hard Times, mod punk boogaloo mayhem from the Convulsions and award-winning Latin guitarist Howard Haigh. There will also be acts from as far away as Austria, Canada, USA, and from all over the UK (even Yorkshire). The full calendar of events will be available after August 31st.
The festival will also host street theatre, mini ale festivals and plenty of food both in the venues and the market stalls. The event is family friendly during the day and evening with adults being able to enjoy live music through the wee hours with at least one venue open 24 hours and another two licensed to 4am.
A few of the events are ticketed and tickets can be obtained after August 31st online from the festival website (www.lancastermusicfestival.com/tickets.php), at Lancaster's Visitor Information Centre and the venues themselves.
The 64 page festival brochures will be produced by Lancaster Magazine and are available from September 15th for £1 from participating venues and the Lancaster and Morecambe Visitor Information Centres.
General enquiries to: [email protected]
Please note: Music applications for the festival ended on July 1st. The festival is still accepting sponsorship and advertising up until August 31st. Anyone interested in advertising in the music festival brochure, radio airtime and online media can get in touch with the festival coordinator Ben Ruth at [email protected].